About us
We are a non-profit, non-governmental civil society organization supporting people in psychiatric wards in Osaka through our advocacy practice.
Following the deaths of two patients in 1983 at the Houtokukai Utsunomiya Hospital, a psychiatric hospital in Tochigi prefecture, due to assaults by members of the nursing staff, the Osaka Center for Mental Health and Human Rights was founded in 1985 by a group of citizens, including people with mental disorders and their families, medical and welfare professionals and lawyers, with the aim of achieving safer psychiatric care.
We aim to promote social understanding and to contribute to a society where people can live in peace,regardless of their mental condition or disability.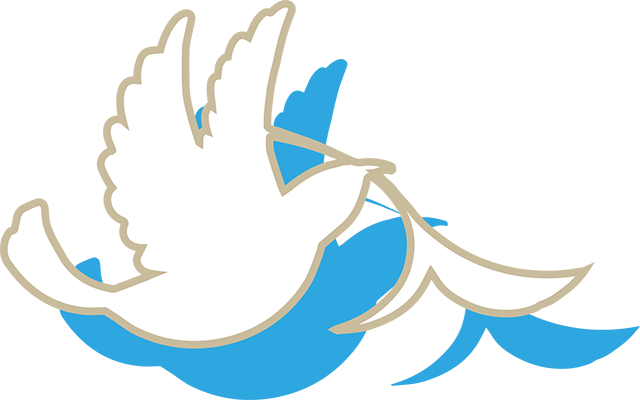 Our mission
To listen to the voices of service users: we are committed to advocating for the rights of people in psychiatric wards from their points of view.
To open the hospital door: we are transforming psychiatric hospitals to be open to the community.
To change society: we are seeking to promote psychiatry where everyone feels safe.
Consultations for people who are hospitalized in a psychiatric unit or their families.
Free-of-charge consultations are available, for patients in psychiatric wards (in the Osaka area), or their family members. For information, please contact us by email or letter.
Postal address:
〒530-0047
Taniyama Building 9F, 5-9-5 Nishitenma, Kita-ku Osaka
NPO Osaka Center for Mental Health and Human Rights

Email: advocacy #pearl.ocn.ne.jp (Please change the # to @)
Please include the following information in your email or letter.
Surname, First name
Email address
Name of hospital and ward
Reasons of consultation
Mode of reply
Please tell us which of the two options you would prefer.
You can also contact us by phone, but please note that we only speak Japanese on the phone and callers are responsible for their own telephone charges.
Help line: 06-6313-0056 (Japanese language)
(Wednesday 14:00~17:00)
Office / Admin phone: 06-6313-2003 (Japanese language)
(The following information is extracted from the Japanese language leaflet "Watashitachi ga daiji ni shiteiru koto"( "What we value"), which can be found at https://www.psy-jinken-osaka.org/file/leaflet.pdf)
Current treatment of patients in psychiatric hospitals in Japan
The number of admissions to psychiatric hospitals in Japan is very high, even by world standards.
Moreover, nearly half of these admissions are due to involuntary hospitalization. (In Japan, under the Mental Welfare Act, there are two types of involuntary hospitalization: for medical care and protection and by the prefectural governor.) 
In 2014, for example, the number of psychiatric patients in Japan hospitalized for longer than one year was 186,675. Of these hospitalizations, 85,506 (29.4%) were for between one to 5 years, while 101,169 (34.8%) were for more than 5 years. In other words, 64.2% of all psychiatric hospitalizations in 2014 were for longer than one year.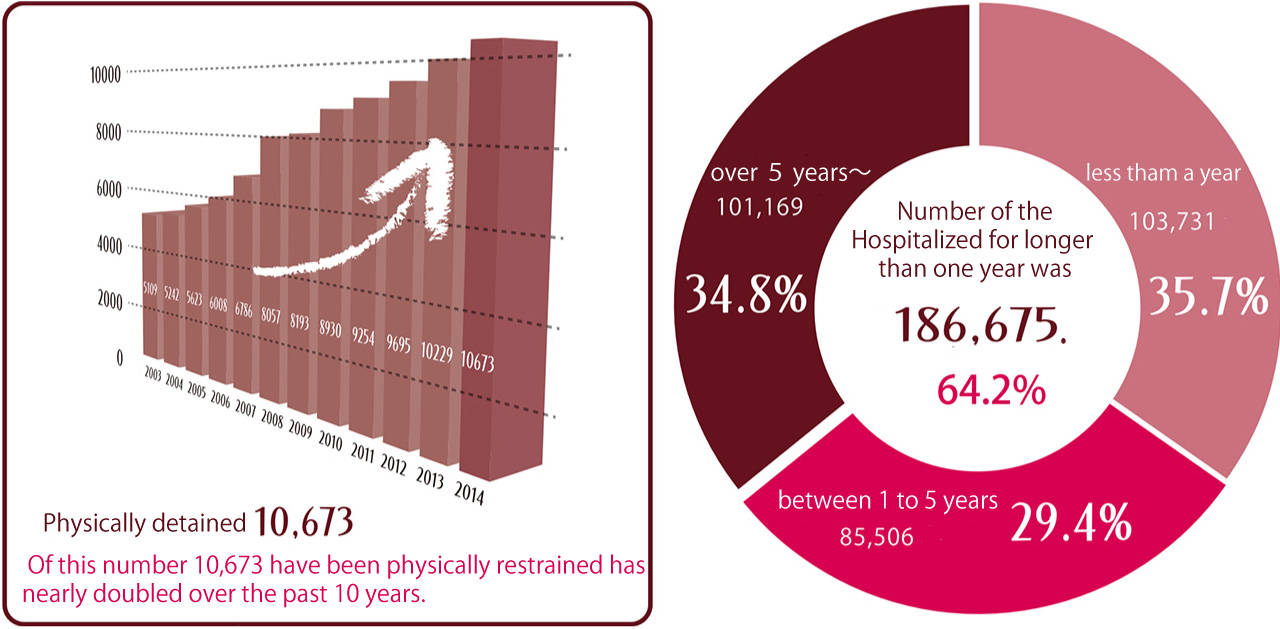 Moreover, the number of cases where inpatients have been physically secluded has increased significantly in recent years, while the number of cases where inpatients have been physically restrained has nearly doubled over the past ten years.

In general, many psychiatric patients, even those who are admitted voluntarily, are placed in closed wards, and their hospitalization is also prolonged. In 2014, the number of all admissions to psychiatric hospitals was 290,406. Of this number, 131,924 (45.5%) were involuntarily hospitalized for medical protection. Meanwhile, 155,122 (53.5%) were voluntarily hospitalized, but 83,034 of these patients were placed in all-day closed/locked psychiatric wards.
(Reference: Ministry of Health, Labor and Welfare, 2014.06.30)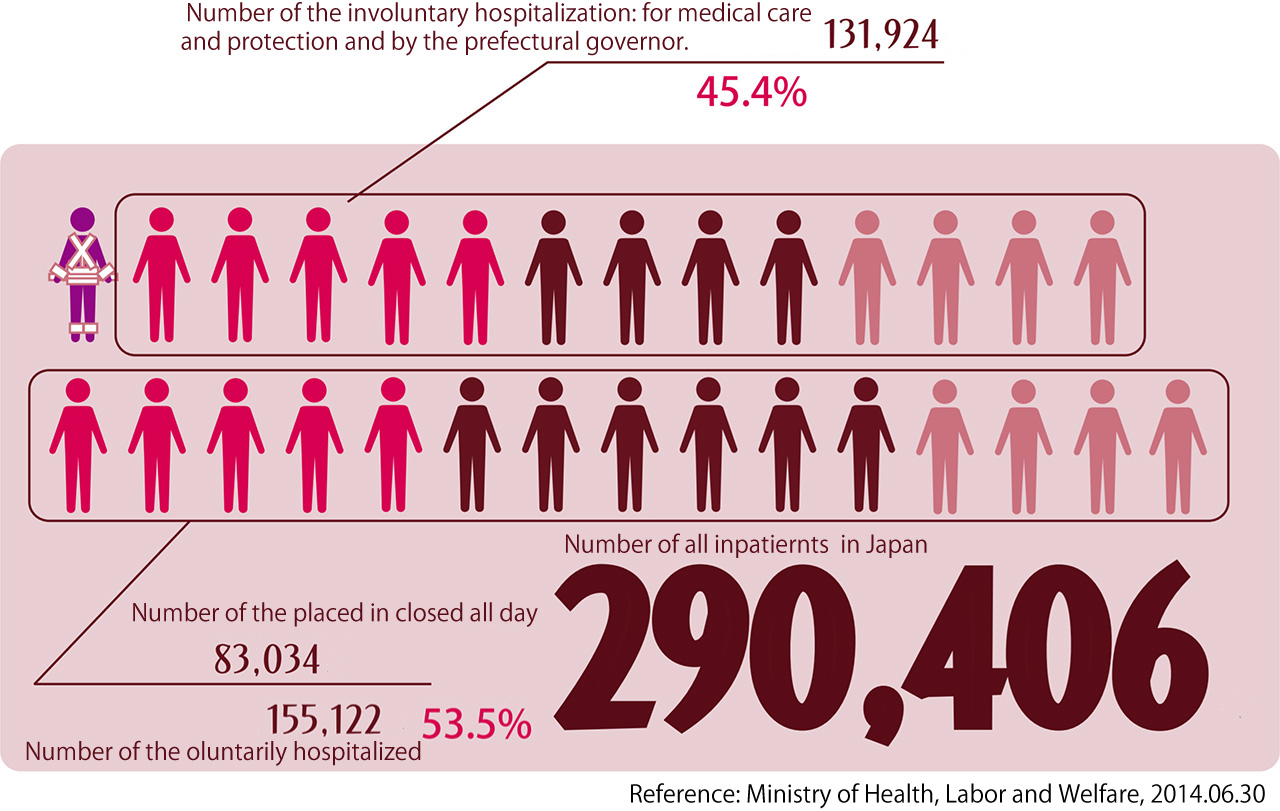 Why is this happening?
The legal requirements for compulsory hospitalization and the use of restraints are vague and are loosely interpreted in practice.
The use of the involuntary hospitalization (for medical protection) and restraint or seclusion can be carried out by a decision of a single designated mental health doctor.
Psychiatric Review Boards are largely ineffective: in almost all cases where patients appealed to the review boards to be released from hospitalization, the boards have ruled that continued hospitalization is necessary (Health Care Report, 2016).
What should be done to change this situation?
A fundamental review of the system of compulsory hospitalization. This includes the abolition of compulsory hospitalization for medical protection.
To establish a system of patient advocacy independent of psychiatric hospitals, in which advocates work from the hospitalized patients' points of view, informing them of their rights and supporting them in realizing these rights.
Our activity
1. Listening to the voices of service users: Towards better advocacy.
●Individual consultations
Consultations for people who have been hospitalized in a psychiatric unit or their families are available by phone call or letter.
(In 2016, there were 872 calls /letters)
●Hospital visits
We make on-site visits to hospitalized patients. Patients may have had to suppress or give up their wishes during their long hospital stays. We try to help them realize their wishes, including getting a hospital discharge. 

(The number of consultation visits was 39 in 2016,102 in 2017,171 in 2018 and 179 in 2019. The number of requests for visits has increased due to the expansion of our activities.
Examples of voices of people in psychiatric hospitals
"I want to leave the hospital."
"I'm afraid to talk to the hospital staff because they might give me more medication or apply physical restraints.
Two trained volunteers visit hospitals on request and listen to the inpatients. Our volunteers come from a variety of backgrounds, including people affected by mental health issues, their families, nurses, psychiatric social workers, lawyers, and other citizens.
2. Opening the door: Transforming psychiatric hospitals to become more open to the community.
●Hospital observations
The program of hospital observations, which is currently only available in Osaka, started in 2003 and has resulted in 178 observations at 58 hospitals.
In the program, our trained volunteers make visits to psychiatric hospitals to listen to patients and inspect wards. From 2003 these were partially funded as the "Psychiatric Ombudsman" program by the Osaka Prefectural Government, but the program was terminated due to austerity measures in 2008. Since 2009 the volunteers have been appointed as "Treatment Environment Supporters" by the Osaka Prefectural Council for the Study of the Treatment Environment of Psychiatric Institutions, which was jointly established by Osaka Prefecture, Osaka City and Sakai City.
We play an important role in the Supporters scheme, deciding where to visit psychiatric hospitals, arranging visits by trained supporters (volunteers) and issuing reports after the observation visits. Two of our members are also appointed as members of the council and attend the bi-monthly council meetings to participate in discussions for achieving a better treatment environment based on the reports.
Examples of some of the results of hospital observation visits.
"Beds on the wards can now be fitted with curtains"
"Public telephones were changed so that they could not be heard by other people, and efforts have been made to protect privacy."
"A box has been set up for people to submit their ideas for improving the hospital environment."
"Information on social resources and an advice room is now displayed on the wards."
We have issued "Open the door: report of hospital observations"
3. Changing society: Realizing psychiatric care where everyone feels safe
● System advocacy
We have been calling for a fundamental review of compulsory hospitalization and have been making policy recommendations to create a system that protects the rights of people in psychiatric hospitals.
Based on our policy proposals, the Osaka Prefectural Government decided to establish a psychiatric ombudsman system and subsidized the activities (2003-2008). We also proposed the creation of a new system to "support patients' transition to the community" and this was made possible by the Law for the Independence of Persons with Disabilities in 2006.

Our activities are also shared via Facebook and YouTube. Please have a look at our accounts:
Words by Miyuki Yamamoto, our vice chairperson
"A sudden admission to a psychiatric hospital can be a confusing experience. It is essential that the patient and the hospital have a frank dialogue about the reasons for admission, the nature of the treatment and the timing of discharge. At present, however, these basic patients' rights are not being realized. In order to achieve a safer environment for psychiatric care, it is important that there is a third party who can take the patient's point of view and speak for the patient"
Information about making a donation
Thank you for supporting our advocacy work.
 Email: advocacy#pearl.ocn.ne.jp (Please change the # to @)
Bank Name:  Sumitomo Mitsyui Banking Corporation (Bank Code: 0009)
Swift Code:  SMBC JP JT
Branch Name:  Minamimorimachi Bran (Branch Code: 129)
Account number:  1485895 (ordinary)
Account holder's name:  大阪精神医療人権センター(Osaka Center for Mental Health and Human Rights)